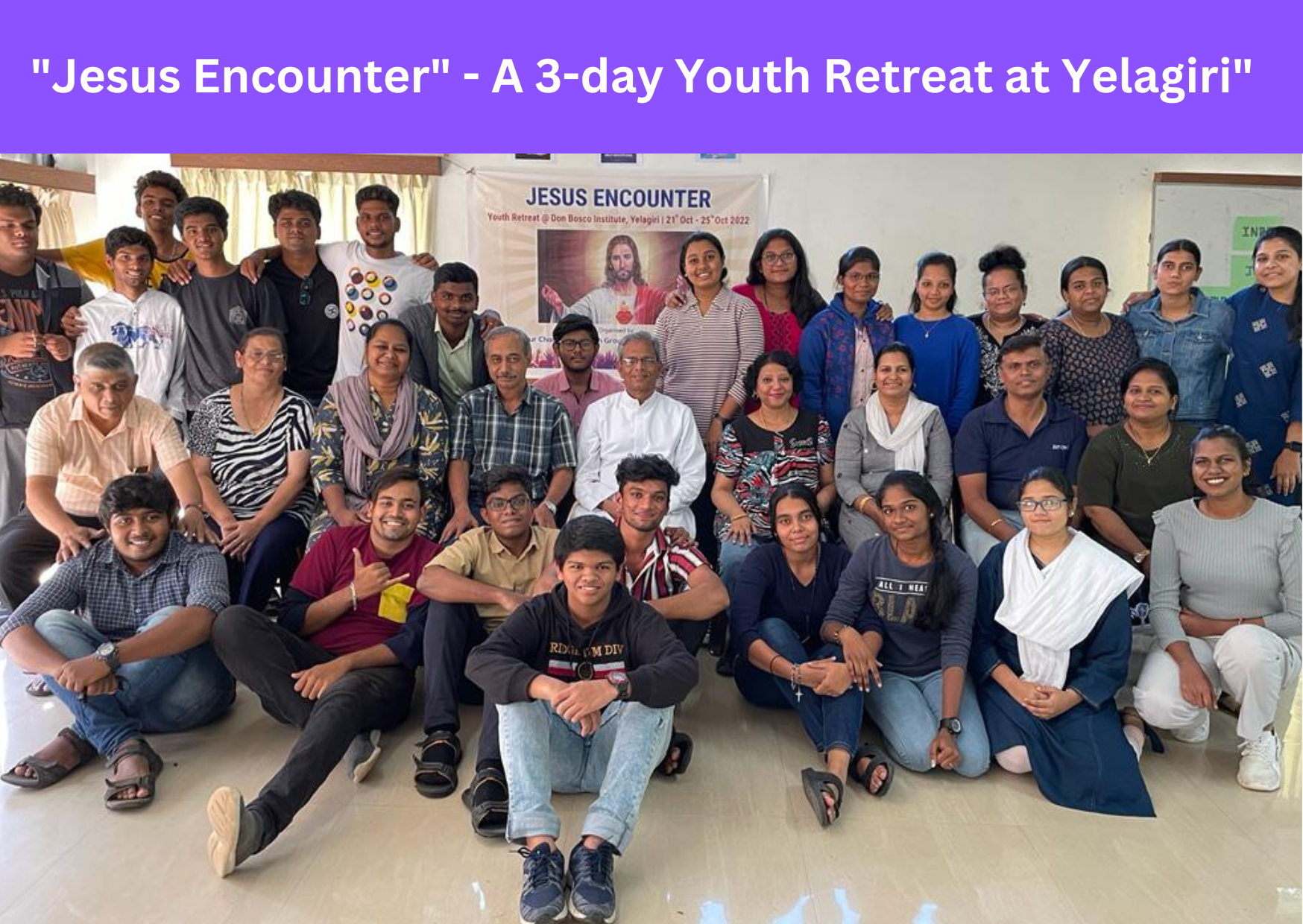 Perambur Youth Prayer Group and the Madras Service of Communion together organized a "Jesus Encounter" for the youth. The 3-day residential Life in the Spirit weekend retreat was organized for those youth who were interested in being a part of a Youth Prayer Group and wanted to be committed to Jesus.
The weekend residential retreat began on Friday the 21st of October and ended on 24th October, Monday which was a national holiday. The "Jesus Encounter" was held at Don Bosco, Yelagiri where the retreat participants were hosted. The entire group along with the retreat team were taken by bus from Perambur to Yelagiri.
We left at 4.30 p.m. on Friday and after a 7 hour journey reached close to midnight where we were welcomed with a piping hot dinner.
The retreat began in full-flow the next day early morning. Each session's talk was followed by a group discussion. As the retreat was closed, there was a lot of time for each session which was at a relaxed pace allowing the participants to have all their questions answered through the group discussions that followed each talk.
The retreat team was led by Fr. K P Paul. The preachers included Nirmal, Marcia, Dr. Dominic, Sharon, and Regina. The team was assisted by the Perambur Youth Group animators Romeo, Cathy, Laurence and Priya.
1.Angeline Erica Linda Lyndon Patricia have given permission
Testimonies from Retreat Participants
I had a very good experience. I learnt how to pray my personal prayer. Before coming to retreat I didn't know how to pray deeply. You all shared and taught me very well how to pray in the Holy Spirit. During the Inner Healing session I heard these words, "I am there for you my child." I felt very peaceful.
Angeline
The 3-day retreat was a blessing. It really felt like we were chosen. Right from the travel, stay, food , etc everything was so comfortable. The retreat was well organised and structured. Every talk, testimony, Gds, personal prayer sessions, mass, confession, infilling of the Holy Spirit, confession, skits, etc., was an enriching experience. I've never felt this close to God or experienced His love this
immensely. Every query I had was cleared through the group discussions and talks. After the infilling of the Holy Spirit session, l feel so free from within. Overall, it was a unique and interesting experience. I'm grateful for all the people I met and for also growing closer to Jesus.
Erica
I had a good experience in this 3-day retreat. All the problems I had I gave it up in the inner healing session and now I'm free by the Holy Spirit and I made up my mind that wherever there is a retreat I'll make sure to be there and put God first in my life.
Lyndon
I had a very enriching experience and I praise God for leading me to this retreat. I am very grateful to the organisers and Fr Paul for such a beautiful and spiritual three days. I feel much closer to God after the retreat.
Patricia