We had four night vigils in 2022, March, May, September and December. 
Jericho March at the Lenten Night Vigil
Lenten Night Vigil – March 19th, 2022 The Lenten Night Vigil was held at Holy Cross Church from 9.45 pm to 5 am. Sessions such Praise and Worship, Way of the Cross, Inspirational Talk, Rosary recitation, Intercession, Jericho march, Chaplet of Mercy and Eucharistic celebration were conducted during the Vigil. Fr. Robin Seelan, SJ gave an inspiring talk at the vigil.
Marian Night Vigil – May 21, 2022 The Marian Night Vigil was held at St. Teresa's Nungambakkam. Fr. Gandhi SDB gave an inspiring talk, heard confessions and led the group in a healing adoration. There was special intercession for the Golden Jubilee Convention of the Catholic Charismatic Renewal (CCR) in India. Margaret Rosaire gave the talk on our Blessed Mother. We concluded the vigil with the Holy Eucharist.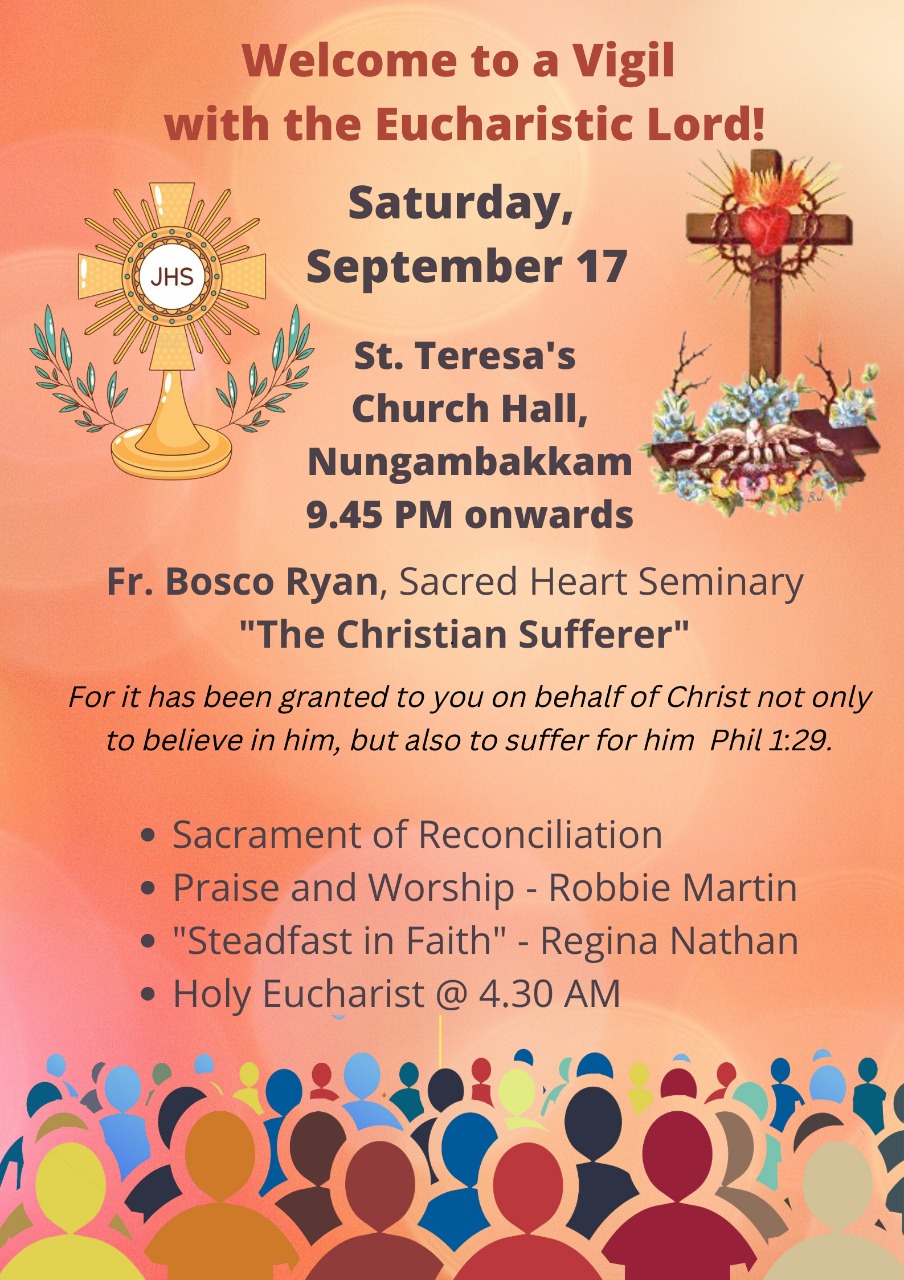 September Night Vigil – Sep 17, 2022
September Night Vigil – Sep 17, 2022 The Night Vigil was held at St. Teresa's Nungambakkam.
Fr. Bosco Ryan gave an inspiring talk on the 3 qualities that were necessary before the early Christians were given Baptism
1. Instantly Forgive
2. Carry their crosses cheerfully
3. Not attached to any person, place or thing
In the Catechism of the Catholic Church CCC 1129, the Church affirms that for believers the sacraments of the New Covenant are necessary for salvation. "Sacramental grace" is the grace of the Holy Spirit, given by Christ and proper to each sacrament. The Spirit heals and transforms those who receive him by conforming them to the Son of God. The fruit of the sacramental life is that the Spirit of adoption makes the faithful partakers in the divine nature by uniting them in a living union with the only Son, the Savior. He quoted Lumen Gentium 1:16 to remind the gathering of the Church's mission to "Preach the Gospel to every creature" and how the Church fosters the missions with care and attention.
He exhorted the faithful, to
1. Pray constantly
2. Mortify ourselves
3. Drive away every evil thought
He reminded the gathering of 1 Peter 3:15 "But in your hearts revere Christ as Lord. Always be prepared to give an answer to everyone who asks you to give the reason for the hope that you have. But do this with gentleness and respect,"
After the talk, while there was adoration of the Blessed Sacrament, he heard confessions of all those gathered and celebrated the Holy Eucharist at dawn to end the night vigil.
Advent Night Vigil – December 17, 2022
The Advent Night Vigil was held on Saturday, December 17, 2022 from 11 to 6 am. Fr. Bosco gave a talk on how Advent and Christmas came about in the history of the church and the importance of rubrics of our liturgy. We then had a few hours of praise and worship with intercession. He heard confessions of all those gathered and celebrated the Eucharist at dawn.